Alterra FAQ bot
Answers questions about your company and products.

Convert static FAQ to a question-answering bot.
When I trade in my iphone, how long will it take to receive credit?
Omni-channel
Website chat

Chat widget for your website
Like the one this web page, in the lower right corner

Begin conversation on your website, continue in Facebook Messenger

Intercept incoming support requests; instantly resolve them by finding answers in FAQ

AI – driven search for FAQs, help, knowledge bases. Search by meaning, not keywords

Intercom and Drift

Just say "Operator!" to hand the conversation over to your live agents in Intercom or Drift

Zendesk

Virtual AI agent that works right alongside your Zendesk support team

Integrations

FAQ bot is currently integrated with Bright Pattern contact center software and Chatbox messaging suite. It can also be integrated with other chat apps, messengers, email, SMS, mobile apps, etc.
Features
Users may ask questions in their own words
Search by meaning, not keywords
Deep Learning inside – no coding required
Artificial neural network learns from
conversations between humans
More accurate than other FAQ search solutions: 90% vs. 50%
Humans may train the neural network, to make it even more accurate
Bot answers frequently asked questions
Can escalate complex cases to humans
Route to the right agent
Can be integrated with chat apps, contact center solutions, CRMs, etc.
For the system to work, you have to first give it a training corpus.

It should consist of:
1. The FAQ file – the set of canonical question-answer pairs
2. Historic user queries with the correct answers assigned to them

You can upload your FAQ file and query log to the system via FAQ Editor.

(Alternatively, you can do it programmatically, via FAQ API.)
More about FAQ editor

Open FAQ editor
Facebook Messenger customer chat plugin
Begin conversation on your website, continue in Facebook Messenger
With this plugin, provided by Facebook, your customers can switch between your website and Messenger without losing the conversation's history and context. And you can follow up with them days and weeks after they left your website.
Learn more.

The plugin, as provided by Facebook, requires your live reps to chat with customers (similar to Intercom, Drift, etc.).

Alterra gives you a virtual rep, a bot, to answer frequently asked questions. Your live reps may still handle more complex cases and/or close deals.

This bot can also operate outside of your website, inside Facebook Messenger. That is, as an added bonus, you also get a Messenger bot.

To activate your Facebook chat plugin and Messenger bot you have to link your Facebook Page to our system. You can do it via FAQ Editor.
Details here.

No Facebook approval is required – our bot is already cleared by Facebook.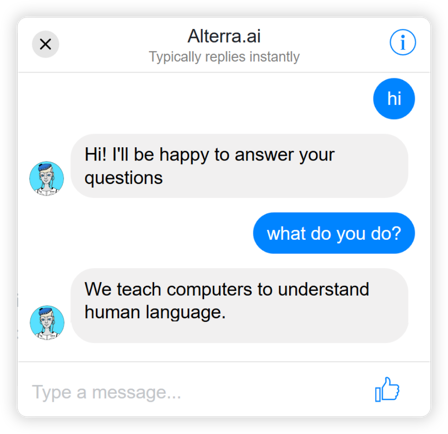 Rapid Resolution
Intercept support requests in the browser, before they are submitted to the ticket queue. Instantly resolve them by finding answers in FAQ
You likely have a place on your website where users may fill a web form and submit their requests to your support organization. We can intercept these submissions and resolve about 20% of all requests.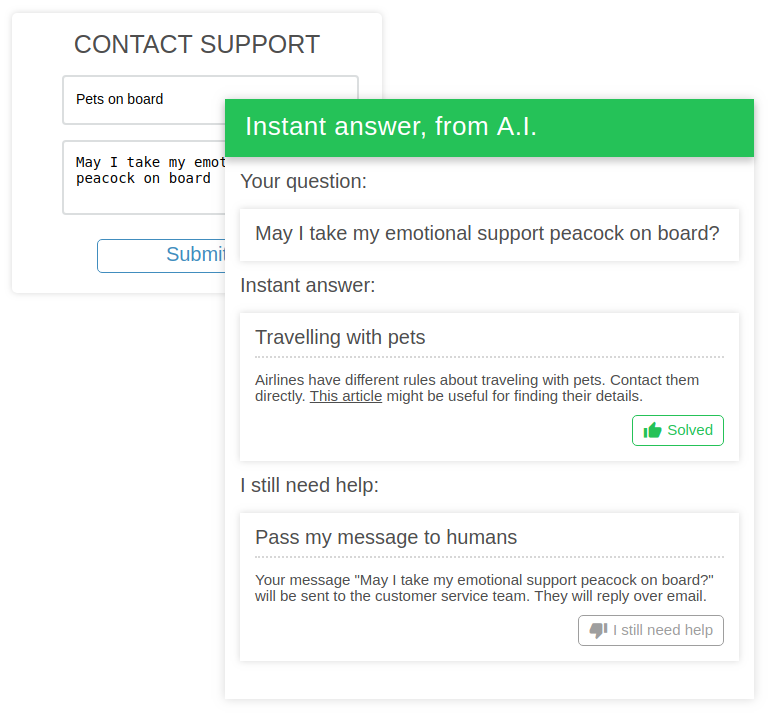 How it works:
You add two lines of JS code to your page hosting the "Contact support" web form
The user types a question into the form
Our JS intercepts it and sends it to the FAQ bot
The bot searches your FAQ
The search results are displayed in a pop-up, along with two buttons: "My problem is solved" and "I still need help"
If the user clicks on "Solved", all set – the issue is resolved.
If the user clicks "I still need help" a ticket is created in a usual manner, to be handled by your support personnel
You can see the stats of how many requests have been solved by the bot in the Analytics tab of FAQ Editor
Live demo
FAQ search
Search FAQ, help, knowledge base – by meaning, not keywords
You can use Alterra FAQ bot as a search engine, with a traditional site search user interface.

Add a search box to your FAQ, help or knowledge base web pages.

The users type their queries – the bot finds the answers and displays them in classic search engine results pages (SERPs).

100% self-service – no live agents are involved.
In a sense, Alterra FAQ bot is a search engine. It searches your FAQ and finds the answers there. You can give it a search engine interface.

However, Alterra FAQ bot is a search engine on steroids. It is powered by artificial neural networks and thus can search by meaning, not mere keywords.

Thanks to it, it has precision of up to 90%, whereas traditional Google-like keywords-based FAQ search solutions master only 25% to 50%.